---
The Senior Team
Click on the photos below to see full bios.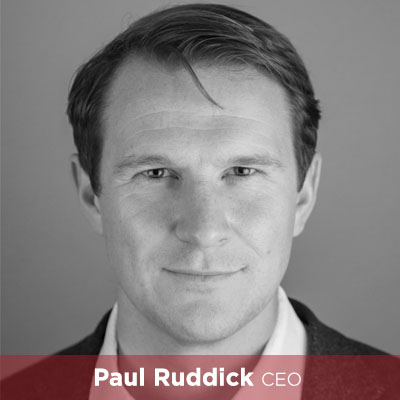 Paul Ruddick
CEO
BSc (Hons), MSc, MRICS
Paul has been involved in the construction industry for the past 20 years, and has etched a reputation for himself and for his enterprise with his positive and proactive leadership.
After undertaking initial training as a Chartered Quantity Surveyor (MRICS) and Project Manager with Davis Langdon, Paul left to found Reds10. Since that small beginning in 2005, he has gone on to show the power of a can-do attitude, building Reds10 into a leading Design and Build Modular Contractor with its own factory.
Paul's experience has enabled him to have a clear insight of what is required to achieve the complete success of a project. He has ultimate responsibility for overseeing all projects in their entirety, to ensure they are completed on time, within budget and to the highest quality.
In 2009 Paul also set out to address a personal frustration: many young disadvantaged Londoners could not get into construction apprenticeships on the large regeneration schemes happening on their doorsteps. Paul founded social enterprise K10 to tackle the issue.
After four years of great success, in 2013 Paul stepped back from the day to day running of K10 and appointed a new CEO to drive the social enterprise forward. He remains a Non Exec Director and Major Shareholder but is now focusing fully on the day to day running and future growth of Reds10.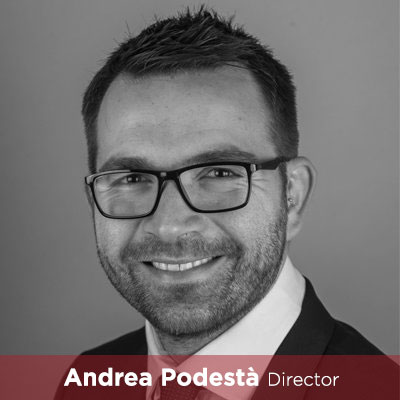 Andrea Podestà
Director
BA (Hons)
Andrea leads the Reds10 design team with over 10 years' experience in the field. From an Interior Design and Surveying background, Andrea's passion for excellent design is orientated to creating designs that fuse functional with aesthetic considerations.
Originally from Milan, Andrea's projects have included the re-design of a large public building in the centre of the city as well as many commercial and educational fit outs nationwide.
Andrea also has a host of renovation projects under his belt, bringing a keen understanding of every aspect of the process to each project he undertakes: from user experience to the importance of cost management.
With his diverse background in the demanding areas of each build, Andrea provides the Reds10 team with far more than just Interior Design. He is the man who makes sure Reds10 delivers the highest standard, on budget and on time.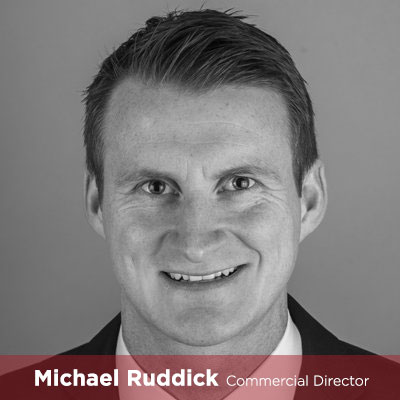 Michael Ruddick
Commercial Director
BSc (Hons), MRICS
Michael has over 12 years' experience in the construction industry, working as a Quantity Surveyor and Project Manager for Davis Langdon in both Australia and the UK before joining Reds10.
He has worked on a number of high profile projects in London in the commercial, retail, educational and aviation sectors with prestigious clients and developers. His experience covers a wide range of both Public and Private sector projects; recently Michael has been the Technical Advisor for the delivery of new University Technical Colleges.
Michael prides himself on his delivery and client management to ensure projects are completed on programme and on budget. His ability to transfer his skills as a Quantity Surveyor and Project Manager to the modular, fit out and furniture services gives Reds10 the added value that his core experience and disciplines bring.
Michael oversees Cost Management, Project Management and Procurement services at Reds10.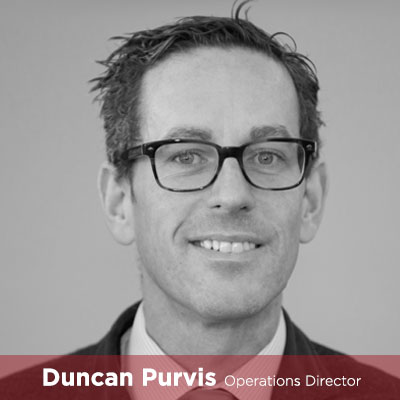 Duncan Purvis
Operations Director
BSc (Hons), MCIOB
With 25 years of construction experience, Duncan brings a unique approach to the Reds10 team. He has spent 15 years on site with roles in setting out engineering through to contract management as well as working client-side in the US and, most recently, leading pre-construction teams.
Duncan has also spent the last 10 years heavily involved in the largest public-sector procurement framework in the UK, culminating in heading it up in the South East. He was part of the hand selected team that renewed the framework in 2017 and secured future works worth £2.25bn.
In 2010, Duncan was nominated and shortlisted from hundreds for the Charter Institute of Builders – Construction Manager of the Year. This Award is one that has paved the way for construction professionals to change the industry from a confrontation-based approach to a collaborative and partnering one. Duncan was an early adopter of this approach and promotes this culture in every project he is involved in.
Duncan's skill set and forward-thinking approach to the delivery of projects will assist Reds10 to take the next step, while also protecting its core values.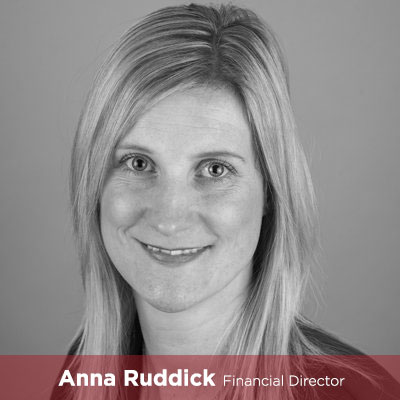 Anna Ruddick
Financial Director
BSc (Hons)
Anna has over 20 years' experience in the construction industry, working within the General Office / Accounts department for JW Sutherland Property Developments prior to joining Reds10 on a permanent basis in 2011.
As Financial Controller, Anna relies on her knowledge of the sector and prides herself on delivering an outstanding service to clients and suppliers alike.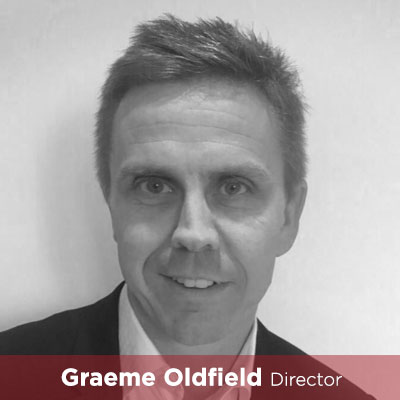 Graeme Oldfield
Director
MSc
Graeme has been working on the offsite construction sector since 1994.
After University, Graeme pursued a career in Business Development and client management. His career has included front end Client relationships, project management, commercial management and senior management roles within blue-chip companies. Having worked with us on some of our early modular projects through our supply chain, Graeme joined Reds10 in 2015 specialising in the offsite construction, which he heads up for the northern region.
Graeme likes to be actively involved with his client's projects and works hard to develop long-standing relationships with them and their professional teams through his drive and dedication to end results.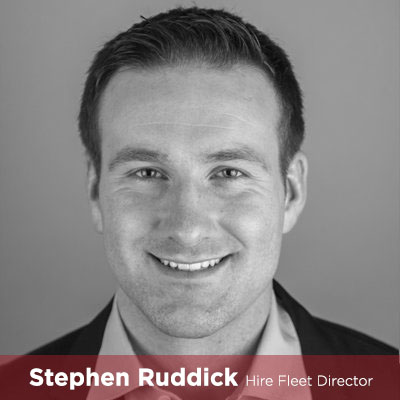 Stephen Ruddick
Hire Fleet Director
BSc (Hons), MRICS
Stephen has over 10 years' experience in the construction industry, working as a Quantity Surveyor for Cyril Sweett in Edinburgh before joining Reds10 as Contract Manager for all construction services.
His experience working in the commercial and educational sectors has taken him all over Britain and covers a wide range of projects in both the public and private sectors.
Recently, Stephen's work as Contracts Manager on projects across the UK has allowed him to bring the holistic approach that makes him essential at Reds10 to a variety of our long-standing clients. Stephen's passion for and focus on his work make him a crucial factor in maintaining the client relationships on which Reds10 pride themselves.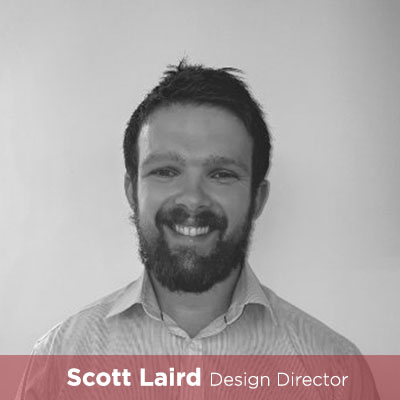 Scott Laird
Design Director
BSc (Hons)
Scott brings to the table a unique mix of skills for the construction industry, having trained as a Quantity Surveyor with Davis Langdon then progressing to Design Manager for construction and FF&E within Reds10.
Scott runs the construction and FF&E Consultancy Projects as Design Manager and advises on design management, co-ordination and specialist equipment. He has been a key member of streamlining Reds10's in house design processes and bringing innovative production methods into the working process.
Scott is currently expanding the 3D design and BIM modelling capacities of the Reds10 team, ensuring the most innovative solutions can be provided to clients. Projects that Scott has worked on recently are Elstree UTC, Richardson's Yard, Loxford Primary, New Horizon SEN School and ASD Drumbeat.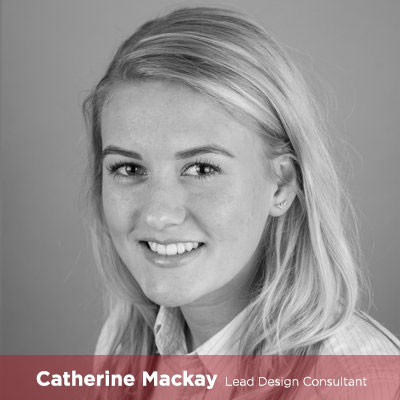 Catherine Mackay
Lead Design Consultant
BA (Hons)
Having graduated from Kingston University, Catherine has worked on a number of key projects as part of the Reds10 team and individually, most recently taking on responsibility for 3D design and BIM implementation for the company.
Her passion for interior design, meticulous attention to detail and rigorous organisational skills, allow her to produce CAD/Revit designs and material schedules, which are not only clear and cost-effective, but also unique to each client's individual needs.